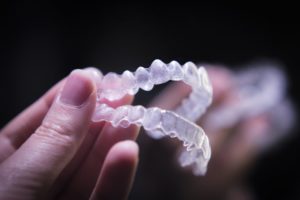 As it turns out, one of the most common types of people to come in asking about Invisalign are those who had braces at a young age. Unfortunately, it's easy for teeth to shift back if people don't wear their retainers long enough after orthodontic treatment. As a result, they experience a relapse in their treatment, often leading to crooked teeth, poor bites, and a smile they're embarrassed to show off.
However, that doesn't mean you can't get a second chance with Invisalign. Keep reading to learn more about your options!
Is Invisalign Possible After Having Traditional Braces?
Invisalign's clear aligners treat many of the most common misalignment and bite issues people experience. Whether you had metal braces five years ago or 20 years ago, they can be used to fix your problems. Of course, you'll still need to wear a retainer after you complete Invisalign treatment as well. The alveolar bone needs time to set into it's new position, so consider this the next time you forget to wear your retainer before starting your day or before bed.
Since Invisalign uses transparent and removable devices to straighten teeth, it's typically the best option for fixing issues without changing your appearance or daily eating and brushing habits. Just make sure to wear them for at least 20 to 22 hours a day to keep your shifting on track. Your dentist will definitely notice if you're off track since they have your entire treatment planned from start to finish.
What If I'm Currently Wearing Braces?
In some cases, dentists may be able to accommodate you with clear aligners as well. It really depends on the complexity of your current orthodontic regimen and how far along you already are. However, some doctors are treating their patients through a specific combination of both braces and clear aligners.
Before pursuing, ask your dentist about Invisalign and if they can be used to complete the rest of your initial treatment. They'll have a better understanding of your treatment so far and offer advice on the best options for your oral health and smile.
What About Restorations?
The true answer is that it depends. Some restorations are easier to work with, such as porcelain veneers or dental crowns. The next step is to speak with your dentist about what will work best for your smile. The only time aligners may not be effective is if you have extensive bridgework. This is because clear aligners are meant to shift teeth individually, making it much more difficult to do.
If you have bridgework that connects two or more teeth at a time, aligners may prove ineffective at fixing misalignment. Of course, this can only be confirmed when you visit a dentist for a consultation!
About the Author
Dr. Karl Arakelian earned his Doctor of Medicine in Dentistry from the University of Philadelphia. He's also a member of the American Academy of Cosmetic Dentistry, which helps him stay updated on the latest techniques and technologies in cosmetic dentistry. To learn more about his practice, you can contact him through his website.