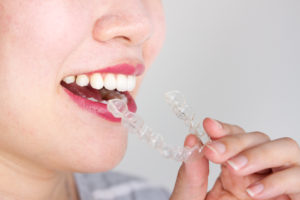 According to many people, we're now living in the Information Era – a time when anything you want to know is available at your fingertips. Overall, this is very helpful for tasks like changing a fuse in your car or replacing a leaky faucet, but your dentist warns that a line should be drawn on what fits under the umbrella of do-it-yourself (DIY). One of the areas that should be left to professionals is dental care and, more specifically, orthodontic treatment. As you read on, you'll learn why the new online trend of DIY braces isn't healthy and how Invisalign offers better and safer results for correcting bite issues.
How DIY Braces Work
The components listed for creating DIY braces almost seem like something from the back of a cereal box, which should be alarming. Here's what they consist of:
Superglue
Orthodontic wax
Rubber bands
Hair elastics
Dental floss
Jewelry-making bracelet beads
Paper clips
These are some scary items to attempt to place inside your mouth. Thus, it's best to leave orthodontic treatment to a trained professional.
Invisalign – A Safer and More Effective Method
When you visit your dentist, the current condition of your teeth will be assessed, and the professional will develop the best strategy to safely and effectively correct your bite woes. One of the best ways to achieve this is with Invisalign.
This form of treatment consists of a series of clear, plastic trays that are custom-designed by your dentist to accommodate your smile needs. The process starts with him or her capturing images using the advanced capabilities of the 3M True Definition scanner. The information gathered will then be sent to an in-network lab that will fabricate a full treatment set of aligners.
You'll wear each set of aligners for two weeks and then discard them for the next pair in the series. By following your dentist's instructions, your bite will be corrected, and you'll complete the treatment with a brand-new smile.
Caring for Your Aligners
To enjoy the best results and protect your oral health throughout the treatment process, it's important to follow these simple protocols:
Wear your aligners for at least 20-22 hours a day
Practice excellent oral hygiene, which includes flossing and brushing your teeth
Clean and soak your aligners when you remove them to prevent bacteria growth
When it comes to making orthodontic improvements, you don't have to bear the burden of tackling such a challenge. Leave it to the expertise of your local dentist so you can feel safe and secure in every step of the process.
To get on the road to smile perfection, reach out to schedule a consultation today!
About the Author
Dr. Karl Arakelian is a graduate of the University of Pennsylvania in Philadelphia, and he has become a fixture in the Haverhill community. He continues to push himself to expand his knowledge through hours of annual continuing education in the latest dental concepts, which allows him to correct patients' bite woes with Invisalign. Dr. Arakelian rejuvenates smiles at his private practice, and he can be reached for more information through his website.