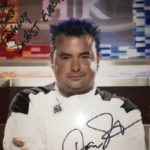 I first met Jason Santos 20 years ago when he was a young chef in Boston. He worked with my wife teaching healthy cooking classes to underprivileged families in the inner city. He has since "graduated" to be one of Boston's most recognizable chefs. He owns and operates three downtown restaurants including Abby Lane, Buttermilk & Bourbon, and Citrus & Salt. His unmistakable blue hair can also be seen on Bar Rescue, The View and The Today Show.
When he first became a patient in our Haverhill, MA office, he (like most patients) didn't like going to the dentist.
A couple of years ago, though, Jason asked me if we could straighten his teeth. He had been coming in for routine checkups and noticed his teeth were starting to shift. He was having a hard time flossing because of the increased crowding. He also didn't show many teeth when he smiled.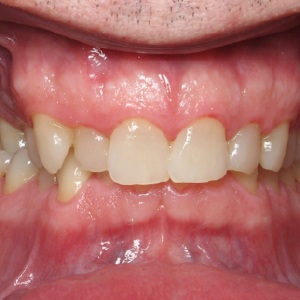 I said we could straighten his teeth with an Invisalign protocol. Invisalign consists of a series of clear aligners or retainers that the patient wears for a prescribed period. We have been treating Invisalign patients for several years and have seen remarkable results. One challenge is the patients' commitment to wearing the aforementioned aligners for up to 22 hours per day. I spoke to Jason about this compliance issue knowing he was always in the kitchen tasting his recipes. He had no reservations about starting treatment. So we did. And Jason was an awesome patient. He came in every six weeks for minor adjustments and to pick up new sets of trays. His teeth were getting straighter and he was thrilled that they were much easier to keep clean by both brushing and flossing. People start Invisalign to straighten their teeth, but an unintended consequence is an easier means of maintaining the health of the teeth and gums.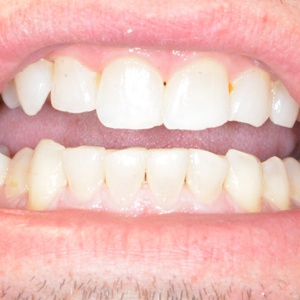 The nearby photo shows Jason's teeth just as we are nearing completion of treatment. Chef wants to do some bonding to even out some teeth. We are also going to whiten his newly straightened teeth.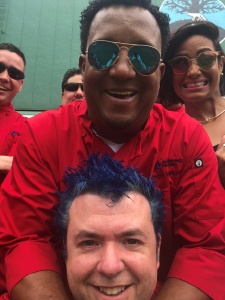 He has been very busy with two restaurant openings in the past 18 months in addition to his TV appearances, so stay tuned for updates on Jason's progress.
Jason is also a huge Red Sox fan.