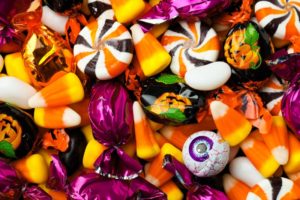 Goblins and ghouls won't be the only scary monsters out on Halloween night. If you're not careful, tooth decay and cavities can be equally as frightening, especially if your child overindulges in their candy-filled Halloween buckets. To prevent decay and disease from entering your house, take the advice of a dentist who shares 5 ways you can protect your little trick-or-treater's teeth and gums this holiday season.
Brush and Floss
Whether it's Halloween night or not, your child should be taking care of their teeth and gums with a regular oral hygiene routine. This should include brushing twice a day for two minutes, using fluoride toothpaste and a soft-bristled toothbrush, flossing at least once a day, and rinsing with an antimicrobial mouthwash. This regime will remove harmful bacteria and food particles that if left on the teeth can lead to tooth decay and gum disease.
Pick Their Favorites
When your child comes home with a bucket full of candy, let them pick out their favorites and donate the rest. There is a multitude of organizations and dentist's offices that offer to take the candy collected on Halloween. This will not only allow your child to enjoy their favorite sugary sweets but will be an enjoyment for others such as military men and women overseas.
Drink Plenty of Water
Water is one of the best things you can consume, especially when eating sugar. If your child is unable to brush their teeth immediately after eating candy, have them drink and rinse their mouth with water. This will remove it from their teeth and prevent bacteria from spreading into the small crevices of their mouth. Plus, it will keep them hydrated and encourage their salivary glands to work at an optimal level.
Minimize Sugary Beverages
If your child is enjoying a few pieces of candy on Halloween, make sure they don't combine it with soda, juice, or another sugary beverage. You want to keep the sugar consumption as low as possible, so it's best to let them drink water while eating their treats. It's also beneficial to wait and let them have candy after eating a full meal. The reason is that their salivary glands are already hard at work, so any sugar consumed will be quickly washed away by their saliva.
See the Dentist
Although your child might disagree, there's no better time than to schedule one of their regular dental checkups and cleanings than around the holidays. Not only will this ensure their oral health is in optimal condition, but should any plaque or tartar be found, it can be easily removed and managed before the start of the holiday season.
As Halloween quickly approaches, don't take all the fun out of your child's trick or treating extravaganza. Eating a few pieces in moderation is fine as long as you make sure they're taking the correct steps to keep their teeth and gums in check.
About the Author
Dr. Karl Arakelian has an estimated 30 years of experience in the field of dentistry. Graduating from Brooks School in North Andover, MA, he went on to achieve his undergraduate degree in Biology from McGill University in Montreal before completing his Doctor of Dental Medicine from the University of Pennsylvania in Philadelphia. Dr. Arakelian and his team believe in keeping your child's teeth and gums healthy during this sugar-filled time of year, which is why he is happy to offer advice and tips on how to keep their oral health in check while enjoying the holidays. To inquire about ways to protect your little one's teeth from decay and disease, contact us via the website or call (978) 373-0901.