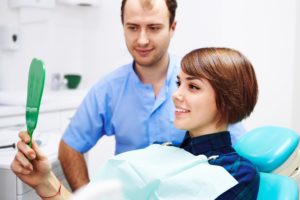 Did you know you're supposed to visit your dentist at least twice a year for preventive care? If you're like one-third of Americans, you probably haven't had a cleaning or checkup recently despite your dental insurance. You might think you're saving money by only visiting your dentist when there's a problem, but you're actually increasing your oral health costs. Not to mention, you could waste hundreds to thousands of dollars per year by not maximizing your dental insurance. As the end of the year approaches, don't throw money down the drain. Here's why you need to schedule an appointment before your insurance expires.

Reduce Your Dental Health Expenses
Prevention is a top priority for any dental practice to preserve your teeth. Besides home oral hygiene, routine cleanings and checkups are invaluable for keeping your smile healthy. Not only will your teeth look great, but regular care also prevents certain issues from occurring, like tooth decay and gum disease. This lessens the need for an expensive treatment down the road. In fact, research shows every $1 spent on prevention can reduce your restorative costs by as much as $50.
Your dental insurance makes it easy to see your dentist 1-2 times per year after paying your monthly premiums. Although every policy differs, most plans cover preventive appointments 100%, so you can maintain your dental health without breaking the bank.
Maintain a Healthy Smile
Even with the best prevention, a problem can occur over time, like a cavity. You don't need to worry about a large bill to have it treated. Your dental insurance can cover as much as 80% of the cost of restorative treatments until you reach your annual limit, which is usually around $1,500. You'll need to pay your yearly deductible to enjoy reduced rates for the services you need to maintain a healthy smile.
Your Dental Insurance Will Expire
At the end of the year, your dental insurance will expire, and you'll lose any benefits you haven't used. With less than 3% of Americans meeting or exceeding their annual allowance, you likely still have several benefits remaining. If you don't use them now, they won't carry over into the new year and you won't be reimbursed for them either. Your insurance company will not refund your premiums or your deductible if you don't use all your coverage.
Don't Waste Your Insurance
As we reach the end of the year, don't lose the money you've paid into your dental coverage. Visit your dentist to maximize your remaining benefits. You'll enjoy a healthy smile for the new year.
About Dr. Karl Arakelian
Dr. Karl Arakelian has over 30 years of experience in dentistry to deliver world-class care to the community. Besides earning his dental degree, he has attended over 1 thousand hours of continuing education to provide modern solutions. He works with many leading insurance carriers to keep his services affordable for everyone. If you need an appointment before the year ends, contact our office today.