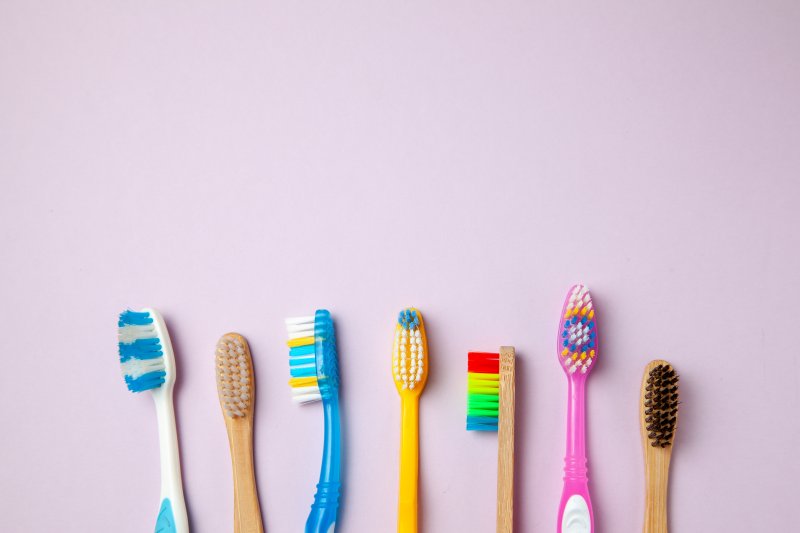 Everyone knows the importance of keeping your teeth, gums, and mouth clean. But what about your toothbrush? You use it every day to scrub plaque and bacteria off your teeth and tongue. While your mouth is left much cleaner, your toothbrush now carries all the germs and residue it removed. If it's not disinfected properly, it will start to lose its cleaning ability. Luckily, keeping it clean in between uses can help preserve its effectiveness – here are a few tips.
How Do You Clean a Toothbrush?
Ideally, you should replace your toothbrush every three months, but here are a few ways you can keep it clean in the meantime:
Rinse With Hot Water
The most common method of disinfecting your toothbrush is to run hot water over the bristles before and after each use. It helps eliminate any bacteria that may have accumulated in between and after brushing sessions. For most people, this technique is enough to sanitize a toothbrush in between uses. Just make sure the water is hot enough to produce steam!
Soak in Antibacterial Mouthwash
Are you interested in going a step further? If the hot water rinse isn't enough, try soaking your toothbrush in a small cup of antibacterial mouthwash for about two minutes after each use. It's worth noting that this method may wear the bristles down faster, meaning you may need to replace your toothbrush more frequently.
Use Denture Cleanser
A denture cleaning solution can also be used to disinfect your toothbrush. It's made up of antimicrobial ingredients that target bacteria and plaque that grow in your mouth. Want to give it a shot? Dissolve half a cleansing tablet in a cup of water and submerge your toothbrush for 90 seconds. That's all it takes to get your brush extra clean!
What's the Best Way to Keep it Clean?
Once your toothbrush is sanitized, you're going to want to keep it that way! Properly storing it is essential to maintain cleanliness – here are some tips:
Store it in hydrogen peroxide solution. Keeping your toothbrush in a small cup of hydrogen peroxide can keep bacterial growth to a minimum. Make sure you swap the solution out every day.
Avoid storing multiple toothbrushes together. It may seem easier to store your family's toothbrushes together, but doing so can cause bacterial cross-contamination. Keep each brush a few inches apart to prevent contamination.
Keep it as far away from the toilet as possible. Every time you flush the toilet, fecal matter rises into the air and spreads all over the surfaces in your bathroom, including your toothbrush! Prevent these bacteria from reaching your brush by storing it as far away from the toilet as possible (preferably in a medicine cabinet with the door closed).
Proper dental care involves more than just brushing and flossing – it means keeping your toothbrush clean too! By following these tips, you can do your part in maintaining good oral health.
About the Author
With over 30 years of experience, Dr. Karl Arakelian provides personalized, compassionated, state-of-the-art dental care to those in need. Since completing his formal training, he has attended numerous hours of continuing education to stay up to date on the latest in dentistry. Dr. Arakelian believes routine brushing and flossing is the best way to maintain good oral health. He'll be more than happy to educate you on how to clean your toothbrush. For any questions, visit our website or call (978) 373-0901.