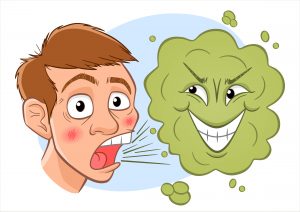 There's no reason to get bitten by mosquitos – you can buy bug spray. There's no reason to run out of gas on the side of the road – there are gas stations on seemingly every corner.
And there's no reason to let bad breath interfere with your social encounters. Instead of a one-liner for this one, there are several preventive measures you can take.
Check out these tips from your dentist in Bradford for telling bad breath to take a hike!
Don't Use Tobacco Products
Smoking contributes to bad breath. Tobacco use, in general, dries out your mouth, which creates a breeding ground for odor-causing bacteria. Even if you brush your teeth, it might not eliminate the smell.
Stay Hydrated
Drink at least 48 ounces of water each day to keep dry mouth at bay. Water helps combat odor by washing away food particles and bacteria.
Chew Sugarless Gum
Sugarless gum helps stimulate saliva flow. Like drinking water, saliva flow works to remove food debris and bacteria.
Snack on Crispy Fruits and Veggies
Eating items like apples, celery, and carrots are yet another way to ramp up your saliva flow. Plus, if you function on an empty stomach for too long, stomach acid can build up and cause bad breath.
Brush Your Teeth
Brush your teeth for two minutes in the morning and then at night to remove food particles and plaque. Bedtime brushing is especially crucial so that bacteria cannot attack your teeth throughout the night.
Floss Daily
Flossing removes food particles from in between teeth that your toothbrush cannot reach. If you brush but skip flossing, you are allowing bacteria to feed on what's left behind, which causes bad breath.
Scrape Your Tongue
You can buy a tongue scraper that will remove residue from between the folds in your tongue and your taste buds. Brushing your tongue with a toothbrush also works.
Rinse with Mouthwash
Other than the mouthwash you buy at the store, you can also rinse your mouth with black or green tea. Both tea varieties suppress the growth of odor-causing bacteria.
Visit Your Dentist
A crucial step in the fight against bad breath is to visit your dentist for an exam and cleaning at least twice per year. Besides providing a more thorough cleaning than you are capable of, they can make sure you don't have any dental issues contributing to bad breath.
Other causes of bad breath include digestive issues, coffee, alcohol, milk, throat and sinus infections, and eating pungent foods. Understanding the cause is helpful in prevention. It's going to be a daily battle, but if you follow these tips regularly you can defeat bad breath!
About the Author
Dr. Karl Arakelian graduated from nearby Brooks School in North Andover, where he's directed the sports mouthguard program for many years. He went on to earn his Doctor of Dental Medicine from the University of Pennsylvania. The learning never ends for Dr. Arakelian, as he's attended more than 1,000 hours of continuing education. Visiting him twice a year for a dental exam and cleaning should be a key part of your efforts to put bad breath in its place. To make an appointment, visit his website or call (978) 373-0901.