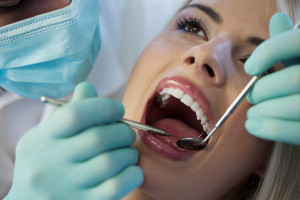 Wondering what will happen during your first visit to a dentist in Haverhill? That's perfectly okay. People who are new to dental care often have questions or concerns about what to expect. Usually, that initial appointment will include a general oral exam, a teeth cleaning, and a brief discussion with the office staff about coverage details and other important matters.
An Oral Exam: The Foundation for Professional Dental Care
A complete oral examination is the bedrock of modern dental care. Here are some of the things your dentist will look for:
Cavities: while dental health conditions can stem from many causes, in most cases the root problem is cavity-causing bacteria. Catching cavities as early in the formation process as possible enables your dentist to apply the most effective treatment.
Jaw alignment issues: misaligned teeth are more than an oral health dilemma. They can also cause common conditions like persistent headache, jaw pain or soreness, and even back or neck problems. If your dentist notices misalignment issues, then he or she may recommend aligners or other forms of treatment.
Signs of throat or mouth conditions: dentists are trained to treat a variety of health problems, not just cavities. For example, dentists are often the first medical professionals to suspect a case of sleep apnea. Your dentist will perform a complete check of your mouth, lips, face, and throat, making you aware of any causes for concern.
Teeth Cleaning: Because Brushing and Flossing Alone Aren't Enough
Most of us know that brushing and flossing are essential to enjoying healthy teeth and gums. But, by themselves, these habits aren't enough to prevent plaque and tartar buildup. Safeguarding your teeth and gums takes regular office cleanings. A trained dental professional will gently clean your teeth up to the gum line while you relax.
Sometimes a more comprehensive approach to cleaning is called for, especially if your dentist sees signs of gum disease. A procedure called scaling and root planing, or "dental deep cleaning," removes plaque all the way up to the roots of the teeth, helping the patient to enjoy full recovery. This typically occurs during a follow-up appointment.
Record-Keeping: It's Not Just about Money
One of the things that makes modern dentistry so powerful is the vast amounts of data today's digital technology makes available. The more your dentist knows about your teeth and gums, the more effectively he or she can treat any problems that may arise.
Your first visit to the dentist will include a complete record of your oral profile and any treatment you receive. Not only will this help the practice to take better care of you, it will also help you to know where you stand health-wise.
Your initial dental visit will also include a quick meeting with a member of the office staff. If you have insurance coverage, then bring a copy of your card with you. If you lack coverage, then the staff may be able to set payment arrangements or suggest other options. Many communities have low-cost clinics for the economically challenged.
That's a quick run-through of what to expect during your first dental appointment. You'll soon be on your way to a brighter smile and better oral health; and that's always good reason to celebrate.
About the Author
Dr. Karl Arakelian is known for both his professional expertise and the personalized care he provides for all of his patients. He leads a staff of skilled, compassionate professionals whose utmost concern is your health and well-being. You can reach the office online or by calling (978) 373-0901.