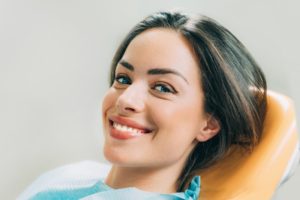 Dental checkups play an important role in your overall health because they provide your dentist with an opportunity to find any issues while they're still small. When you think of dental checkups, you may think about cavities, or at least a focus on your teeth. While the health of your smile is important, your dentist also provides a quick yet in-depth oral cancer screening to make sure you're healthy. Keep reading to learn more about what your dentist looks for during Oral Cancer Awareness Month.
Your Routine Dental Visits
Getting your teeth cleaned is an important part of your oral healthcare, however, a dental checkup can be potentially lifesaving. Dentists alone catch 84% of oral cancers early on, giving their patients the highest chances of a full recovery. Because the symptoms of oral cancer are often hard to notice on your own, receiving an oral cancer screening at least once a year is imperative to your oral and overall health.
What are the Symptoms of Oral Cancer?
Oral cancer is a type of skin cancer, which makes it among some of the most common cancers in the US. Thankfully, it is one of the most preventable and curable cancers! Although some of the symptoms are tough to detect on your own, contact your dentist if you notice any of these warning signs:
Sores in or around your mouth that won't heal
Red or white patches in your mouth
Lumps or bumps around your mouth
Pain in your mouth
Difficulty swallowing
Feeling like there's something stuck in your throat
Pain in one ear
Persistent swelling
Loose teeth
What Occurs During My Oral Cancer Screening?
Chances are, you've had an oral cancer screening without even knowing it. That's because they can be performed swiftly and effectively. Your dentist will visually check your mouth, lips, gums, cheeks, throat, head, and neck for any abnormalities that may tip off cancer. Dentists never want to find cancer, but they take pride in their ability to detect it before it becomes life-threatening. They may also provide a physical exam, where they'll feel along your jaw and lymph nodes for any lumps or bumps that could be cancerous tissue.
When's the last time that you've received an oral cancer screening? Contact your dentist today to receive the care that you need during Oral Cancer Awareness Month and beyond!
Meet the Dentist
Dr. Karl Arakelian is an experienced dentist who believes in comprehensive care. He offers easy and thorough oral cancer screenings during your routine checkup to keep you healthy and detect any signs while they're still small. He currently runs his own practice, and he can be contacted through his website or by phone at (978) 373-0901 for any questions.