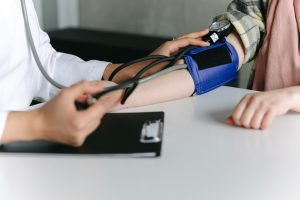 When you visit your dentist, you know they are going to take a close look at your teeth and gums, but you might not expect them to check your blood pressure. You might be caught off guard and go home wondering why does my dentist take my blood pressure? Believe it or not, it isn't unusual. Although it doesn't directly relate to your oral health, your heart health plays a crucial role in your dental care.
Why Does My Dentist Check My Blood Pressure?
Your dentist can learn a lot by taking your blood pressure during your cleaning and checkup. It allows them to create a baseline to monitor it for any issues. Hypertension can indicate your anxiety levels are on the rise, so your dentist can adjust their treatment plan to meet your comfort needs. In addition, it provides a clue to your overall health at the time of each visit. They can better understand any changes to create a personalized strategy to keep your teeth and gums healthy. Here are 3 ways your dentist uses your blood pressure:
Monitoring with Anesthesia: Even a local anesthetic can affect your blood pressure. Since a numbing agent is often necessary during dental work, your dentist will monitor for fluctuations. Epinephrine in particular is known to constrict blood vessels, which can cause pressure to rise. As a result, they may need to adjust the dosage to ensure your safety.
Detect Dental Problems: Your oral and general health are connected. Certain dental issues are linked to medical conditions. In fact, gum disease has been shown to increase the likeliness of cardiovascular disease. A history of hypertension can indicate your gums aren't healthy.
Save Your Life: With the mouth-and-body connection, checking your blood pressure might just save your life. Untreated hypertension increases your risk of serious complications, like heart attack and stroke. If your dentist finds a significant change since your last appointment, you're able to get the care you need to control it before it turns into a serious problem.
Can My Blood Pressure Be Too High?
Unfortunately, if your blood pressure is 140/90 or above, you may not be a candidate for a certain dental procedure until after your hypertension has been resolved. Every case is unique, so your dentist will consider several factors to determine if you can safely have dental work performed, like the type of procedure and the severity of your hypertension.
Invest in a Healthy Mouth and Body
Consider your blood pressure another important tool your dentist can use to help you achieve optimal oral health and wellness. It's just another key to the puzzle to keep your smile and heart healthy.
About Dr. Arakelian
Dr. Arakelian has over 30 years of experience in dentistry. Besides earning his dental degree, he continued his training with SPEAR Education Study Club. He is a member of various professional organizations due to his commitment to excellence, including the Massachusetts Dental Association. If it's time for your next cleaning and checkup, contact our office today.