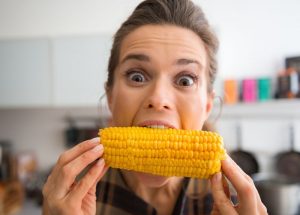 Riding a motorcycle on a busy highway, asking a woman her age, trying to make a living as a snake charmer, chewing on hard candy – these are all risky activities that could put you in a world of hurt!
It's not as if you can't enjoy your favorite foods at times, but it's important to realize that some of them come with a greater amount of risk for your teeth. There's never a good time for a chipped or broken tooth, and then it brings about the stress and expense of getting it repaired.
Here are some foods that can chip teeth, or worse, and what you should know about them, so you don't have to visit an emergency dentist.
Popcorn
The culprits to watch out for here are the unpopped kernels. A kernel can fracture part of your tooth or even break apart a filling. Give your bowl a good shake beforehand to help unpopped kernels settle to the bottom.
Nuts
Nuts are delicious and nutritious, but for the ones in their shell such as peanuts, sunflower seeds, or pistachios, you should avoid cracking the shell open with your teeth. Even with shelled nuts, be aware of the chance there could be shell fragments in the package.
Bones
Chicken wings, ribs, and other types of bone-in meats can be mighty tasty, but be sure you don't take a careless bite into a bone. If you use soup bones to add flavor to your homemade soups, make sure to remove them before serving.
Hard Candy
Anything from lollipops to cough drops can be a real pain if you prematurely chew before the candy naturally dissolves in your mouth. Hard candies are meant to be savored, not chewed.
Ice
Ice is for chilling, not chewing. Ice cubes specifically should be approached with caution. Chewing ice can cause your teeth to develop microscopic, hairline cracks. Over time, these cracks can increase in size, causing your teeth to become more temperature sensitive.
Pits
Don't let pits found in foods like cherries, olives, and peaches take you by surprise. And don't trust foods labeled "pits removed." Like biting a popcorn kernel, the risk of cracking your tooth on a pit is very high.
Nutrition Bars
This item may come as an unexpected inclusion, but it's the surprise in the bar – a shell piece or ultra-hard piece of dried fruit – that's the problem.
Hard Breads
Breakfast staples like bagels and toast, plus snacks such as pretzels, biscotti, and snack mixes all fall into this category. While hard breads are tasty, they do have tooth-breaking potential. Dipping them into olive oil, butter, or coffee is tasty and definitely reduces the risk.
Corn on the Cob
The shape of your front teeth is not designed for biting and grinding into corn cobs. Biting into a corn cob can easily chip and/or fracture one of your very front teeth. Avoid this item if you have fillings, veneers, or crowns.
Protecting your teeth doesn't require you to avoid foods like these that you love, it just means you need to be careful and know exactly what you're biting into!
About the Author
Dr. Karl Arakelian is proud to offer state-of-the-art care in a comfortable environment to patients in Bradford. His father was the original owner of the practice, and now Dr. Arakelian has nearly 30 years of his own experience providing quality dental services. He has attended more than 1,000 hours of continuing education to stay current with the field's newest techniques and technologies. For your emergency dentistry needs or to learn more about other services offered, visit his website or call (978) 373-0901.